Elanders is the exclusive beta tester for the new Landa S10P Nanografic Printing Press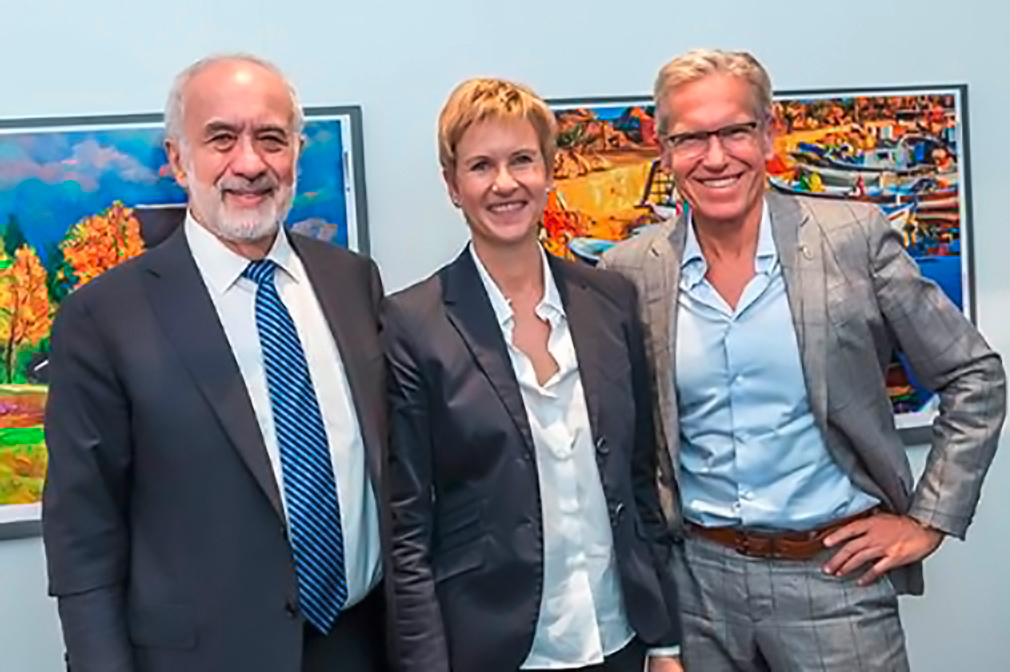 Benny Landa, Susanne Klatten, Peter Sommer (von links) © Landa
We are delighted that the Landa company has chosen Elanders Germany as its partner for the world's first beta test of its new S10P digital printing press.
The Landa S10P Nanografic Printing Press is the first digital printing press with perfector in III-B format (750 x 1050 mm).
This unique printing technology from Landa enables top-quality printing on a whole range of different substrates. It can print on all paper grades common in offset but also on plastics. No special pre-treatment of the materials is required. The achievable range of colours enables the reproduction of many special colours already in the normal 4-colour process and the reproduction of 97% of all Pantone colours in the 7-colour processes without changing the inks.
A milestone for Elanders, which will once again enable us to offer innovative products and services.

© Landa
© Landa
The new printing press is being installed at our site in Waiblingen and used for the production of high-quality products, advertising materials, catalogues, mailings and brochures. Up to 600-micrometre-thick substrates can be printed with no problems at all. Making the press suitable for the rapidly growing segment of short-run packaging print too. Examples of this are samples, niche markets, campaigns and of course customised products.
The Landa S10P prints up to 13,000 sheets an hour – five times faster than our current digital printing presses and at double the sheet size. As a result, we can respond to our customers' needs even faster with high-quality, double-sided prints, with and without personalisation as well as optional inline coating.
The new Landa printing technology allows us to meet growing customer demands for more flexible production with attractive prices and ideally expand our current machinery for digital and offset printing opening up new opportunities for growth. In short: This is the breakthrough that the market has been waiting for in making our services more flexible!
Benny Landa, Chairman and Founder of Landa, says: "We are thrilled to have acquired Elanders, one of the most innovative companies in our sector, for the Landa S10P's beta test.  It is a particular pleasure to be able to work with Peter Sommer again, a real pioneer in digital printing. We think that Landa will play a crucial role in global digital growth at Elanders."
© Landa