We use HP SmartStream Designer software to take advantage of additional creative potential and unlimited possibilities for printing.
Individual packaging designs for our customer 'Corny
What is the HP SmartStream Designer?
HP SmartStream Designer is a tool for creating sophisticated, high-quality jobs and personalized campaigns. Using the tool allows us to customize and personalize the designs of your products through variable text, colors, images and designs. This makes each of your products a unique exemplar.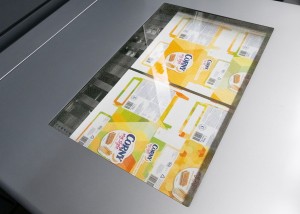 Would you like to have personalised products printed? Please contact us. We look forward to hearing from you!
Environmental protection – there is much talk and much demand. Through the "Elanders Green Solutions" project, we practice concrete measures to protect the environment.  We would like to get you on board and invite you to join us in setting an example.
Climate protection has always been important to us!
Our far-reaching environmental management system guarantees the ecologically friendly orientation of all areas. From production to garbage separation, from processless plate exposure to the use of organic inks. Also various certifications gave us an motivation to go even further and to increase the sustainability of our products. Ultimately, we are constantly working to reduce CO2 emissions in relation to our production volume, so that our CO2 footprint becomes ever smaller.
But we can do even better: climate-neutral printing!
If you prefer, we are able to offer our products climate-neutrally. What does that mean? We calculate the CO2 emissions of your order and offset the greenhouse gases. Without high additional costs for you!
By purchasing climate-neutral products, you make your contribution to global climate protection and support recognised climate protection projects all over the world. You also improve the achievement of global sustainability goals, such as combating poverty or improving living conditions in emerging and developing countries.
Even the economist has a good laugh: Ecological thinking and the consistent protection of the environment can demonstrably support and expand the competitiveness of your company! On the one hand it does a lot of good for the image, on the other hand it significantly lowers the operating costs in every area.
Now it's your turn!
As you can see, we are doing everything in our power to ensure a sustainable approach to the environment. Now it's up to you! Give us a call, we will be happy to advise you.
"Children who are exposed to abuse are deprived of their right to childhood and every lost childhood is an irreplaceable loss for all of us". (Queen Silvia of Sweden)
As an official partner of the flexible child rights organisation "World Childhood Foundation", we actively support the organisation in the fight against sexual abuse of children and teenagers.

World Childhood Foundation
The World Childhood Foundation was founded in 1999 by Queen Silvia of Sweden and is a child rights organisation that focuses on the protection of children and teenagers from sexual abuse. The main focus is on prevention through educational measures and help for children affected by sexual abuse.
With a total of four locations (Germany, Sweden, Brazil and the USA), the organisation is committed worldwide to children's rights and to improving the living conditions of children at risk or being exploited. Children at risk include, for example, those who grow up in community care or in endangered families. Street children are also often exposed to sexual abuse without any protection. This is where the organisation takes action to give children a safe home and support them in building social bonds. The World Childhood Foundation currently supports over 100 projects in 17 different countries.
One example of such a project is the opening of the first Childhood House last year. The project was based on the Scandinavian model of the "Barnahus" and is an interdisciplinary competence centre in which all necessary medical, social and psychological support measures are united under one roof. The house offers affected children a protected framework for statements. This saves the children and teenagers from endless marathons of questioning and investigation, or the need to testify in court in the presence of the perpetrators, which can lead to retraumatisation.
In addition to the fight against sexual violence and child abuse, Childhood is also actively involved in educating society about children's rights. The aim is to create a worldwide awareness of the suffering of mentally and physically injured children.
Would you like to support the World Childhood Foundation in the fight against sexual abuse and violence against children? Then click here!
The inkjet volume is growing! For this reason, we have added another member to our press fleet: Our fourth HP Pagewide T240 HD allows us to remain flexible in commercial printing as well as in high-volume mailings and book printing.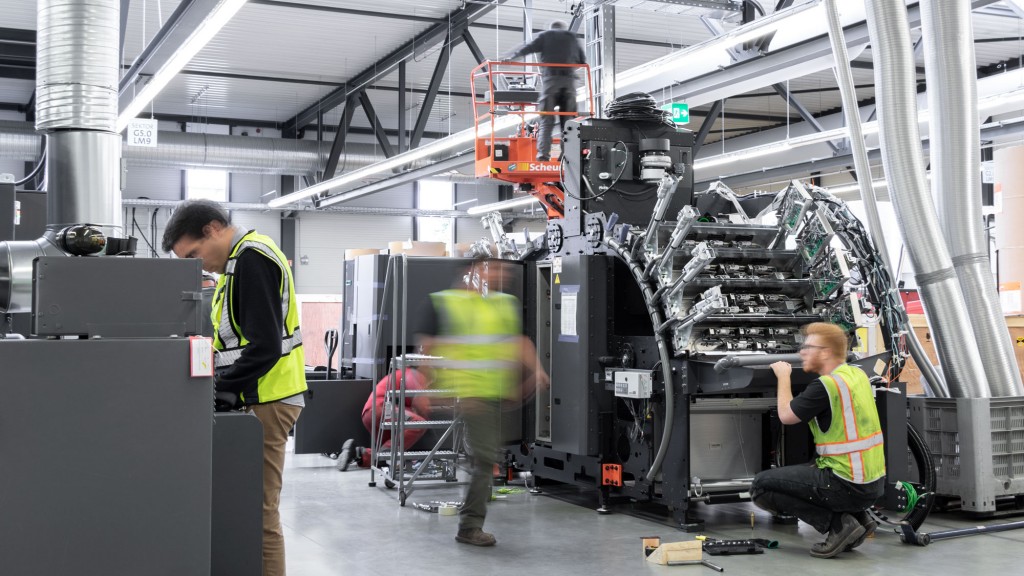 Inkjet printing – what is it actually?
Many people are already familiar with inkjet printing because a lot of home printers are based on inkjet technology. Although industrial inkjet printing works in a similar way, its technology is even more advanced.
In inkjet printing, the paper is printed without any direct contact with the substrate. This works by eliminating ink droplets from small glands in the printer.
This method of operation makes inkjet printing superior to many other processes. Probably the biggest advantage is the comparatively low production costs. In addition, a high print quality can be achieved despite the low costs. Inkjet printing can also optimize the production process. This is because in contrast to the traditional offset process, in which printing must first be completed before further processing can begin, each product can be finished sequentially in inkjet printing. This saves a lot of time and enables more flexible production.
All advantages at a glance:
Contactless printing by terminating ink drops
No retooling with changing pressure contents
Fast print speed
Comparatively low production costs despite high print quality
Sequential production possible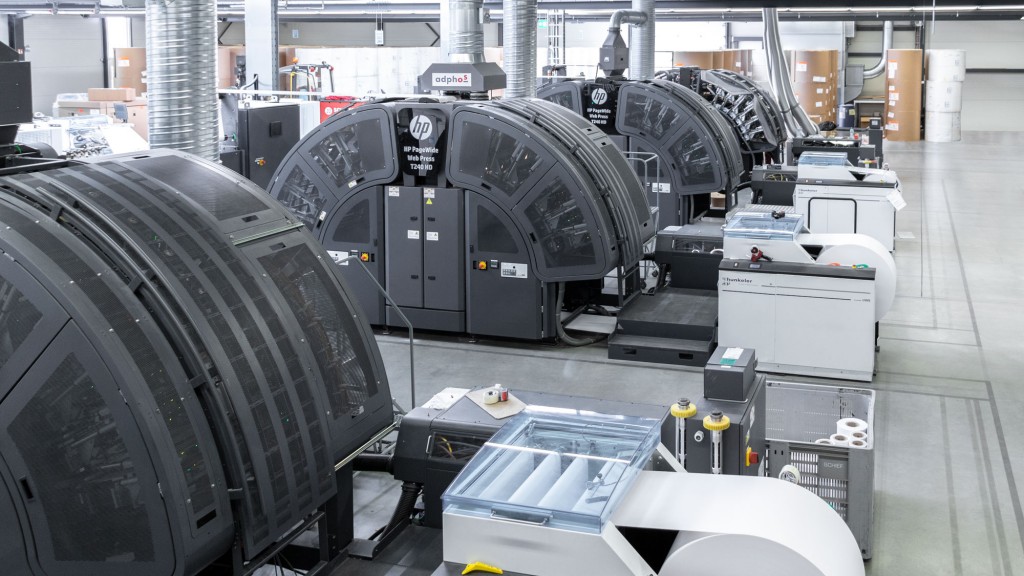 Interested? Contact us! We will be happy to help you and to advise you on your print jobs.
Whether prize draw codes, variable texts and graphics, codes or sequential numbers – with the new inkjet printing system at the head of our gluing line, Elanders Print & Packaging is now able to print your products and packaging with individual markings.
How does it work?
The innovative Makroprint printing system enables fast and non-contact printing of your products and packaging by firing small ink droplets through the air from a print head. Changing print contents are no problem! Thanks to the sophisticated technology, these can be printed one after the other without intermediate steps. The usual set-up times are completely eliminated.
Are you interested in printing codes and markings?
Send us a message here or call us at +49 7151 95630.
We look forward to helping you!
Long-standing and committed customer relationships are at the core of every company. As a print service provider, we place great value on customer-oriented service and the production of our products to the complete satisfaction of our customers. For this reason, we are particularly pleased to have been awarded "Supplier of the Year 2018″ by our customer Ritter Sport. The criteria for this award are clearly defined: An exemplary performance, personal commitment and excellent technical competence are at the centre of this.

Our employees Anika Kuhm, Angelika Trauth and Marc Rehm visited the chocolate manufacturer in Waldenbuch to personally receive the special award. We would like to thank Ritter Sport very much and look forward to further cooperation in a spirit of partnership!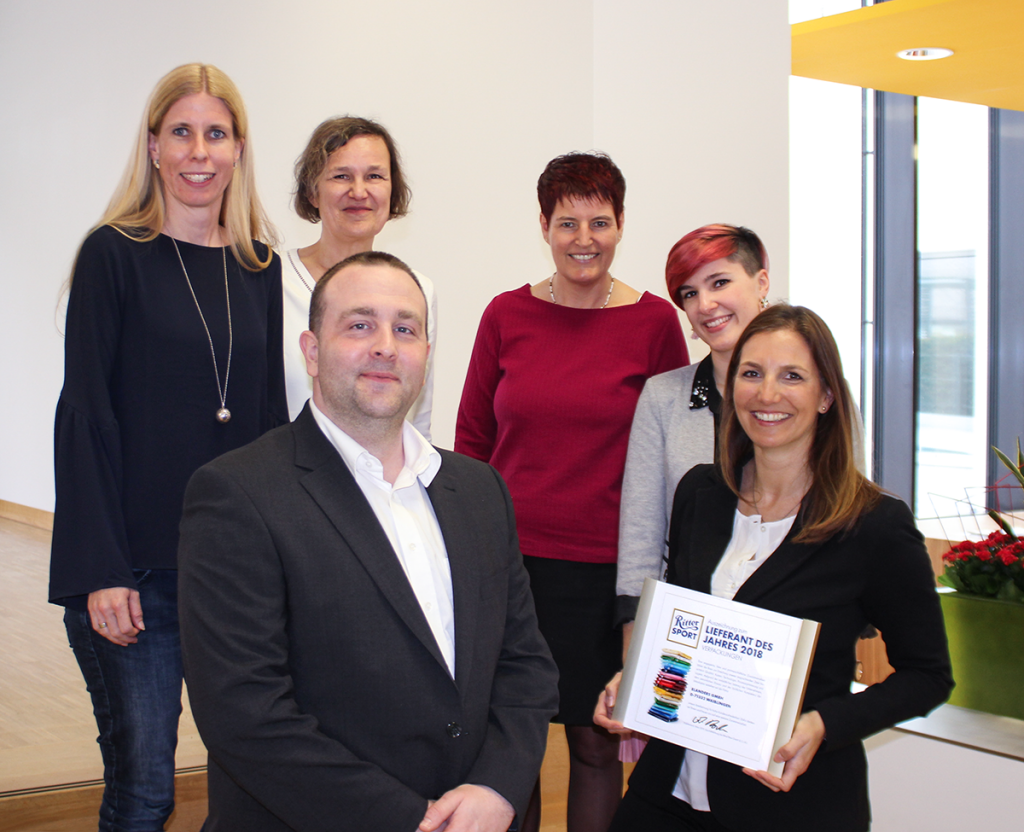 Elanders Print & Packaging wins bronze at the gregor calendar award with Daimler AG's calendar "MOBILITY FOR THE FUTURE
In cooperation with our partners and Daimler AG as client, we have implemented the ideas around the calendar "Mobility for the future" in multi-level printing and finishing techniques. Despite the technical challenges, we created a high-quality calendar with pin-sharp print quality.
In addition to its elegant, dark design, the calendar submitted to the greogor calendar award features interesting images from the fields of research, technology and development.
But what is the gregor calendar award?
As one of the most important competitions in the printing and media industry, a jury annually awards the "Gold", "Silver" and "Bronze" prizes for selected calendars. The organizers of the competition have set themselves the goal of presenting a worldwide cross-section of calendar production and thus presenting the different dimensions of this medium to the public.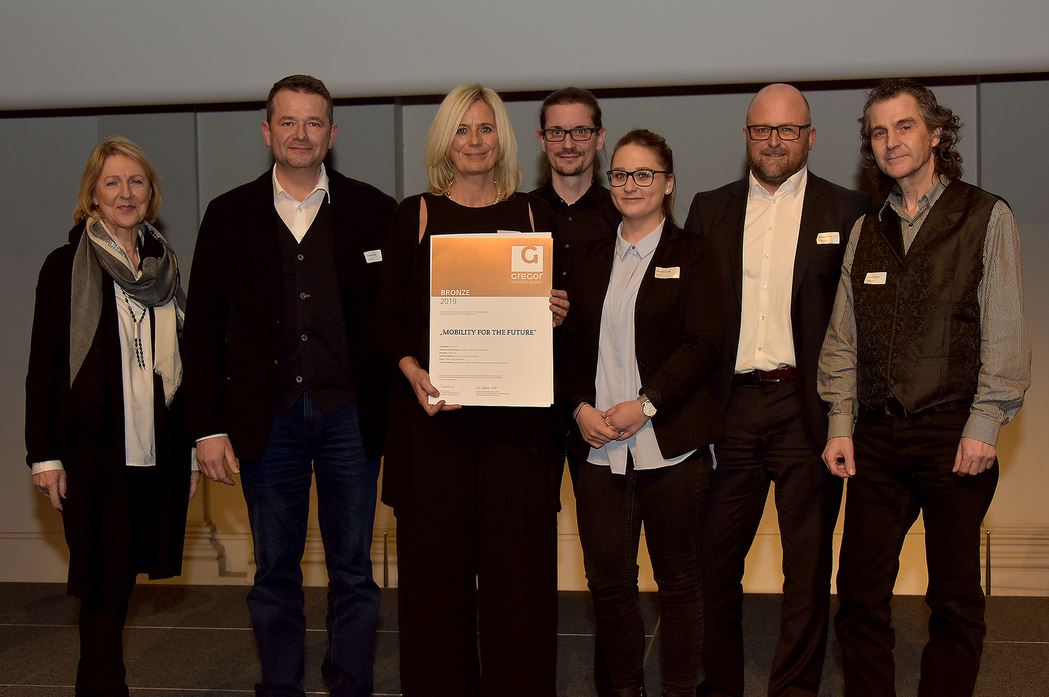 Award ceremony to the prize winners "Bronze"


©

Udo_W_Beier_19_1743
Elanders Print & Packaging is adding a new HP Indigo 12000 to its fleet
Satisfied customers matter to us. That's why we've added another HP Indigo 12000 to our existing HP Indigo fleet. This expansion allows us to respond even more flexibly to your commercial printing jobs. But why the HP Indigo 12000? What makes it so special?

The HP Indigo HD Imaging System is probably the biggest advantage of the new press. By doubling the print resolution, we can achieve maximum uniformity in both photo printing and commercial high-end products. The high-resolution and complex image processing system surpasses the quality of offset printing with 1,600 dpi and thus enables pin sharp printing results. In addition, we will be able to use special colors and spot colors with the fifth color station in the future.
That sounds good? Then contact us here to receive a price offer for your HP Indigo 12000 printing project.
We look forward to hearing from you!
Imagine you are ordering books, brochures or user manuals. Oblique cut content pages, messy page order or wrongly placed sheets? An absolute no-go! To avoid this risk, we have brought the Horizon SmartStacker.
But what is the Horizon SmartStacker?
The Horizon SmartStacker is a special cutting machine that ensures an efficient and safe finishing process. In short, it combines the three processing steps of "cutting", "collecting" and "stacking" – three in one.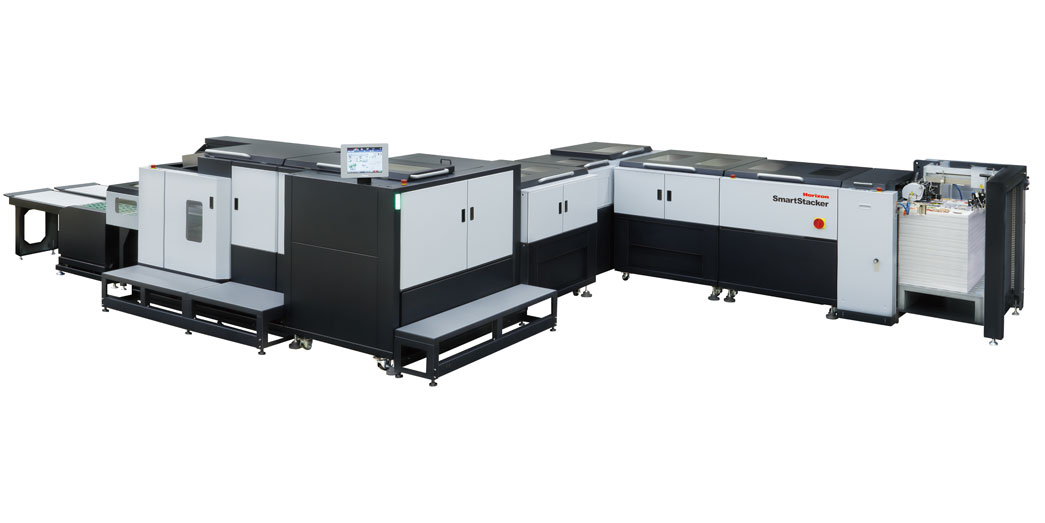 How does the Horizon SmartStacker work?
After digital printing, the printed sheets run into the machine to cut the individual blanks – in other words the pages. The SmartStacker automatically registers the pages. The system checks whether the sheets are positioned straight. This prevents the pages from being cut incorrectly. The labels are then collected fully automatically, stacked and output from the machine as a finished staple.
Whether photo books, book covers, brochures or user manuals – challenge us. We look forward to convince you!
Elanders Germany was awarded with the "HP Regional Inkspiration Award 2018″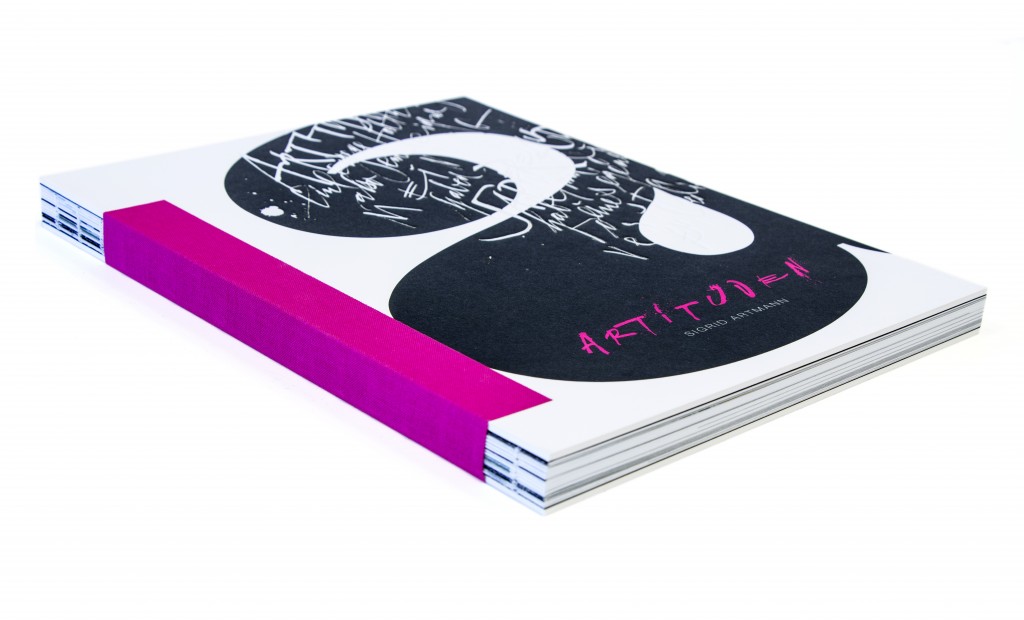 "HP Regional Inkspiration Award" – What's that?
The HP Regional Inkspiration Award is a prestigious award in the printing and packaging industry. The HP jury selects a winner: The aim is to identify the most innovative products produced with the HP Indigo in digital printing.
That's amazINK!
By participating in this competition, our submitted printing project was compared with countless competitors. We are therefore pleased that the HP jury selected our book "Artitüden" as the winner in the "Publishing" category and that we were awarded first place. We would like to thank all participants who were involved in the production of the book "Artitüden" and thus contributed to winning this award.
What's the next step?
Our submitted print project will now be sent to Vienna for the final round of the European HP Inkspiration Award to participate in the Dscoop EMES7 conference.