Just as wide as Elanders' world stretches, so do our possibilities. With around 6,100 employees in 19 countries, we span virtually the entire globe. The goals at each location are the same: we want to help our customers to accelerate processes, to become more competitive.

This is a statement you will find again and again in our company. Our products and services prove that this statement is true and that it sums up our approach precisely. We don't just offer standardised print solutions, as is so often the case on the market. No, we think 360°. And in overall concepts.
»Print & Packaging« is just as important to us as »Print on Demand« or »Supply Chain Management«. What does this mean for you as our customer? Quite simply: we not only take you at your word, but also by the hand and respond to each and everyone of your wishes. We see cross-media solutions not only as the intersection of two different areas, but as an important instrument of a cross-system complete solution. The multi-media world turns a little further every day. And we are at the forefront of every new process from the very beginning.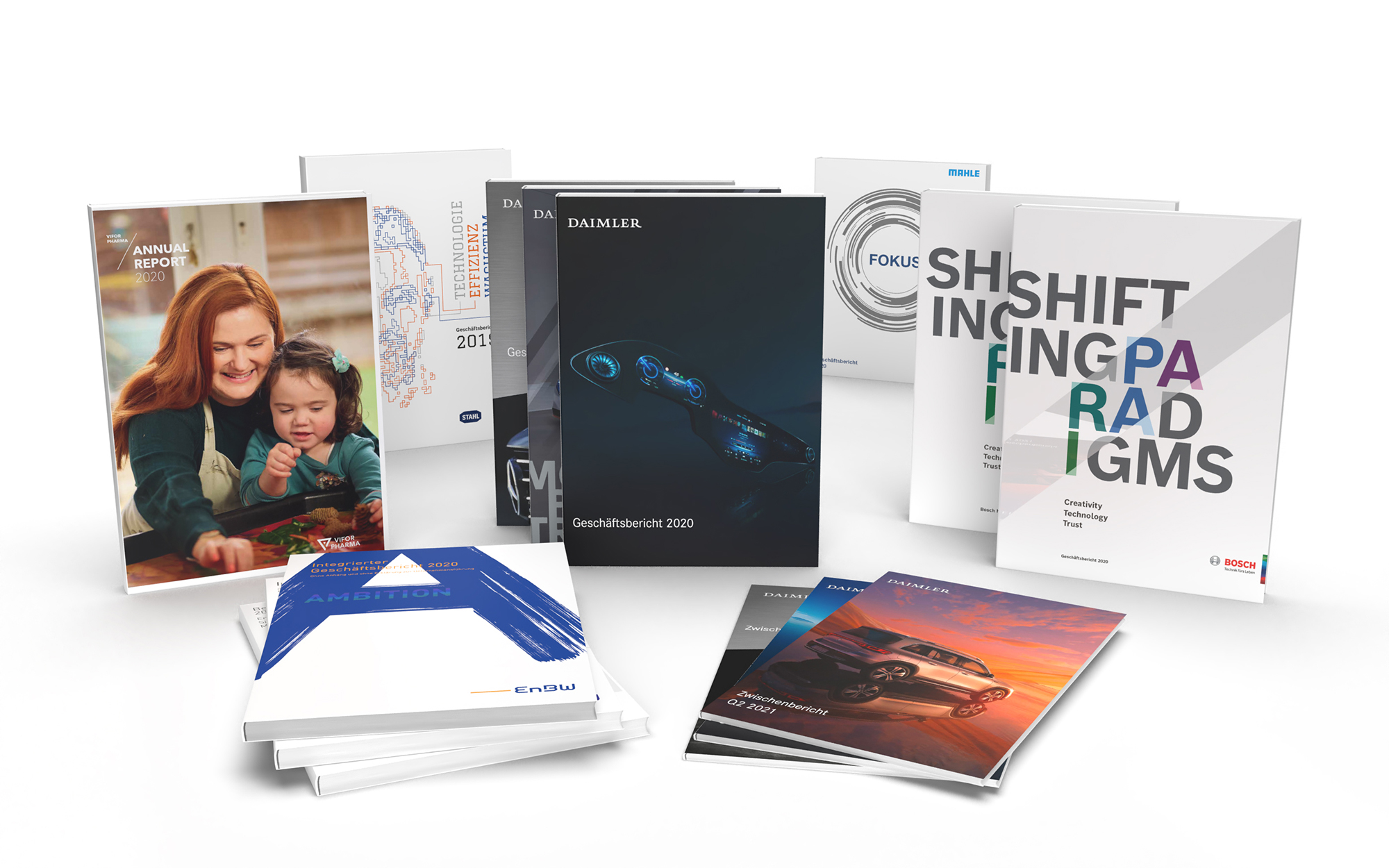 Annual reports are print products of the high-end segment, in terms of print quality, finishing and, of course, on-time delivery. The margin of error must be set here at zero in order to be successful.
»ANNUAL REPORT« – THE ROYAL LEAGUE IN CORPORATE PUBLISHING
To play in the top league, you need two things above all: quality and reliability.
For years, many well-known companies have entrusted us with their annual reports because they know us as a reliable partner for prepress, printing and logistics. Our expertise in typesetting is also appreciated and used by more and more customers.
In addition to our high-quality work, we also see ourselves as problem solvers. Many companies are suffering from the fact that time is becoming increasingly scarce and they are therefore reaching their limits in terms of communication. Information have to be provided for several channels (print, web, etc.) at the same time, and communication via email between different departments like corporate design, accounting, earnings, finance and assets, as well as external service providers, inevitably leads to chaos at some point. Different versions are the result and the quality of the content suffers more and more.
But that is where we come in. We offer our clients an editorial system that is completely tailored to annual reports. It ensures that the latest version of a document is always available. For everyone who needs it. This is regulated by a clear distribution of roles, an audit-proof version history and content provision for several output channels (print, web, etc.).
All participants work on the exact same document via one single platform.
This is how we make communication simple.
Are you interested in the editorial system we use?
At ns.publish you will find all the details.

»BEST PRACTICE« – EFFICIENCY THROUGH INTELLIGENCE
It doesn't matter whether you need a PDF, an online presence, a single print copy or a print run of millions. With us you will always find the right solution, so that in the end as much as necessary can be printed, but also as cheap as possible. This saves both you and us paper and storage costs – and is also good for the environment.

Efficiency is therefore one of our main criteria when choosing the right printing process. This way you always get the best possible quality at the best possible price.

In short: »Best Practice«.