Financial reports
Here you will find Annual Reports, Quarterly Reports and other financial reports.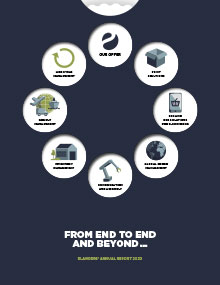 Download as PDF
Download as XBRL
Open XBRL in Viewer*
* Best viewed in Chrome.
Elanders Annual Report 2020
Design: Narva.
Production: Elanders AB in collaboration with Narva.
Paper: Cover: Arena Extra White Smooth 300 g. Inlay: Arena Extra White Smooth 120 g.
Print: Schmid Druck + Medien GmbH, Germany, a member of Elanders Group.
Elanders Annual Report has always been one of the most important publications we produce. Our intention is to present detailed information concerning our result and position as well as our operations and market. It also provides us with the opportunity to display concrete examples of what we do at Elanders.
This Annual Report is a result of collaboration between Elanders AB, Narva and Schmid Druck. Narva was responsible for the design and most of the text. Elanders AB produced the information in the audited annual report. The Annual Report was printed in Kaisheim, Germany in March 2021 by Schmid Druck.
Elanders Q4 2020
"I am very pleased that despite the COVID-19 pandemic we have succeeded in presenting our best full year result ever. During a very turbulent year we have succeeded in improving our margins and dramatically reducing debt. We could see continued strong recovery in all our customer segments in the fourth quarter and both business areas, Supply Chain Solutions and Print & Packaging Solutions, performed significantly better than during the same period last year." Magnus Nilsson, President and CEO, Elanders AB.