Social
Elanders' employees are its greatest asset, and their health and safety are of highest priority. A healthy and secure work environment leads to healthy employees who work safely. In addition to the intrinsic value of the wellbeing of employees, this contributes to society at large.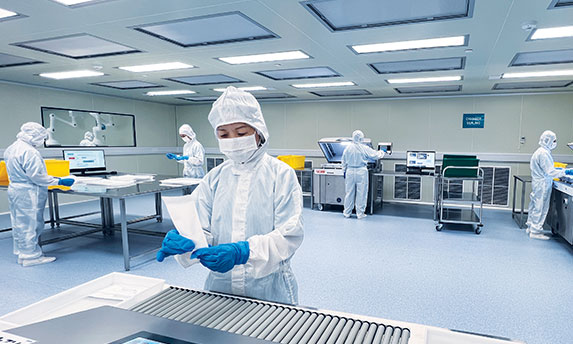 Elanders' subsidiary Mentor Media works with the Swedish Chamber
of Commerce in Singapore in a mentorship program for certain female
managers. The women participate in a six-month leadership development
program together with business leaders.
Health and safety
Elanders' work environment policy is found in the Group's Code of Conduct where guidelines concerning identifying, managing and preventing potential safety risks and emergency situations are provided. The goal is to promote a good work environment and reduce the risk for work-related injuries and illness.
Employee relations
Elanders' ambition is to create attractive, inclusive and sustainable work environments where employees are engaged, develop and deliver results. Elanders believes in authentic leadership characterized by courage, engagement and sustainability. For this reason, Elanders invests heavily in constantly developing and improving the systematic work with the employees' work environment, working conditions, and training and education.
Diversity, equity and inclusion
Elanders has developed considerably in recent years. Major acquisitions have given the Group a new structure and significantly extended it geographically. However, Elanders continues to believe that long-lasting competitiveness can only be achieved if the workplace is characterized by diversity, equal opportunities and inclusion. Among other things, this means that all employees should have the same opportunity for a career. During the year, work continued on developing a formal, group-wide gender equality plan that will be evaluated regularly by Elanders' group management and Board of Directors.
Human rights
As a global group, Elanders intends to be amongst the best when it comes to social responsibility and corporate commitment in all areas where the company is involved. Elanders has committed to respecting human rights, in line with the UN Guiding Principles on Business and Human Rights (UNGPs) and the UN Convention on the Rights of the Child.
Elanders' values regarding fair conditions are established in the Code of Conduct which stipulates that Elanders should work to protect international human rights. The Code of Conduct strictly prohibits any kind of forced labor, human trafficking and child labor. It is self-evident for Elanders to work for children's right to education and to protect children from economic exploitation and dangerous or harmful jobs.
Get in touch with us

Chief Financial Officer and Acting Head of Sustainability
Elanders AB
Phone: +46 31 750 07 50