Gold for Elanders Germany at the renowned Gregor Award – A new dimension of digital printing

The "Gregor International Calendar Award" may be justifiably described as the most important competition of the print and media sector in Europe.
The event organizers of the world's largest calendar show are the German Federal Ministry of Finance and Economy, the Graphic Club of Stuttgart and the German Print and Media Association.
With his CHANGZHOU calendar, Stuttgart photographer Nicolai Rapp succeded in several categories:
in the category "Photo Calendar Award" as the best photo calendar
in the category "Advertising Calendar Award" with the "Gold" award
Elanders GmbH was significantly involved in the success of this project with conceptual ideas and the technical realization.
The highest praise was also showered upon Elanders in an eulogy from the Stuttgart photographer/photojournalist and member of the jury, Andreas Langen.
"Best digital printing – attained by the Elanders company, achieves an impression that is virtually indistinguishable from artist print in museum quality",
stated Andreas Langen during his eulogy.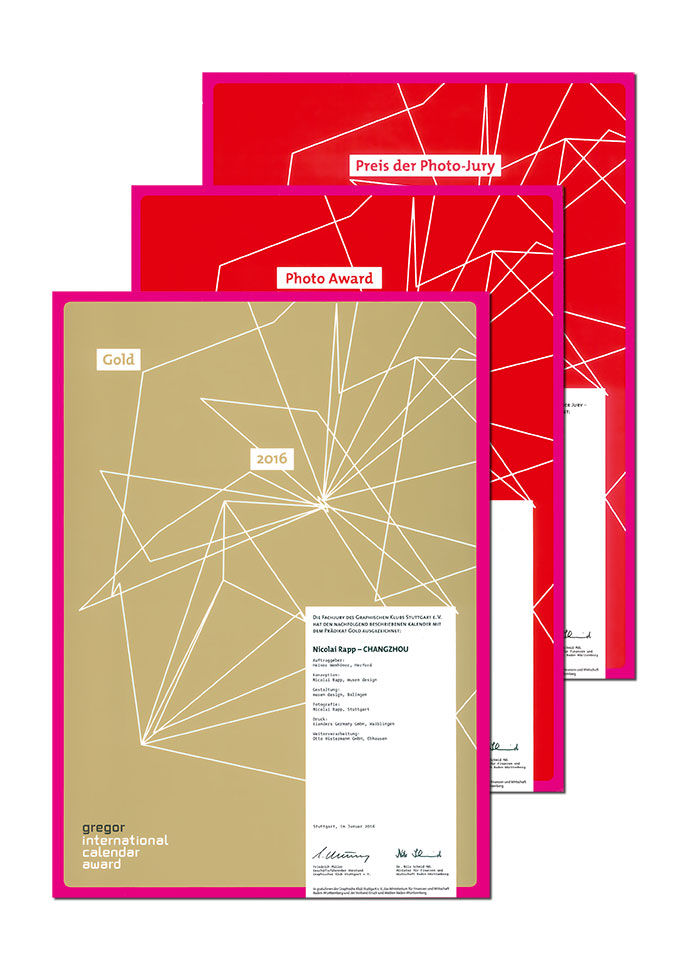 CHANGZHOU

Heiner Wemhöner, Herford
Concept: Nicolai Rapp, musen design
Design: musen design, Balingen
Photography: Nicolai Rapp, Stuttgart
Print: Elanders, Waiblingen
Further processing: Otto Küstermann, Ebhausen
At the invitation of a German businessman who also produces in Changzhou, Nicolai Rapp created an artistic photo reportage of the everyday life of Chinese employees on 13 pages compiled into a convincing calendar that, in the design of the calendar, of the accompanying text, of graphics and the high quality digital print, also testifies to excellent teamwork. Unembellished. A pure delight for the contemplator. musen design from Balingen and Elanders in Waiblingen were also participants in the success.
Source: http://www.gregor-calendar-award.com/award-2016-2/gold-2016/